Report over pipeline blasts causing uproar
Share - WeChat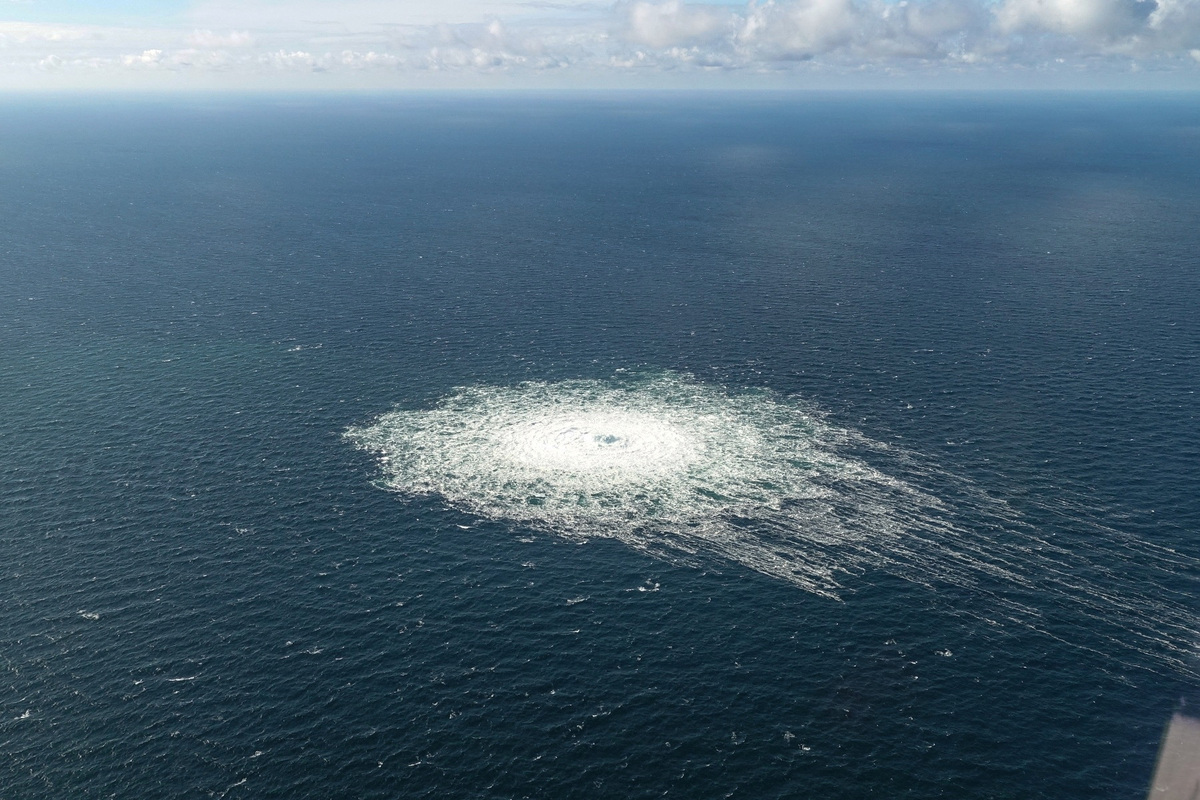 Kremlin vows 'consequences' as White House tries to put out fire over article
A literally explosive story alleging that the United States blew up three of the four Nord Stream natural gas pipelines built by Russia has gotten scant coverage in Western media, other than reports on the White House's denials.
In a 5,800-word article published on Wednesday on his Substack page, Seymour Hersh, an investigative journalist who once worked for The New York Times and won a Pulitzer Prize, said the US plotted and trained Navy divers in Florida to carry out the mission. The pipes were constructed to supply natural gas from Russia to Germany.
The explosions occurred in September after the go-ahead was given by US President Joe Biden, alleged Hersh, 85, who has been criticized in the past for using anonymous sources.
Adrienne Watson, a White House spokeswoman, said in an email that this is "false and complete fiction".
Tammy Thorp, a spokeswoman for the Central Intelligence Agency, wrote: "This claim is completely and utterly false."
In an interview with Russian state-run news agency RIA Novosti on Thursday, Russian Deputy Foreign Minister Sergey Ryabkov blamed the Biden administration for the Nord Stream explosions and vowed that there would be "consequences".
"By and large, yesterday's publication (of the Hersh report) confirmed a conclusion we made for ourselves — the official representative of the Foreign Ministry said yesterday that we never had any doubts that the United States, possibly other NATO countries, were involved in this outrageous sabotage," Ryabkov said.
He also told reporters in Moscow that Russia's assumption was that the US and several NATO allies were involved in this "disgusting crime".
Sweden and Denmark have both concluded that the pipelines were deliberately blown up, but did not assert who did it.
Russia and Ukraine have been engaged in a fierce military conflict since February 2022, and Western nations have used sanctions to choke off exports by Russia, an oil-rich nation, to inhibit it from funding its military operations.
NATO, the US and other Western nations have provided Ukraine with tens of billions of dollars in military and other aid.
The construction of Nord Stream 2 was designed to double the volume of gas that Russia could send to Germany under the Baltic Sea.
It was completed in September 2021, but never went into operation after Berlin shelved it shortly before the start of the Russian-Ukraine conflict.
Two of the pipelines, which were known collectively as Nord Stream 1, had been providing Germany and much of Western Europe with cheap Russian natural gas for more than a decade, Hersh wrote. A second pair, Nord Stream 2, had been built but were not yet operational.
China's Foreign Ministry spokeswoman Mao Ning said on Friday that the US should give a responsible explanation to the world over the report.
The explosions have caused major negative impacts on the global energy market and the environment, Mao told a news conference.
"If Hersh's report is true, then such behavior is unacceptable and must be held accountable," she said.
Speaking of limited coverage of Hersh's report by US media outlets, Mao said that "certain media outlets care little about facts or truth".
False narratives
"They pretend not to see the truth that matters. What they have hyped are often false narratives, instead of truth," the spokeswoman added.
The report elicited criticism from some social media users in the West.
Journalist Michael Tracey wrote to his 300,000 Twitter followers: "Bottom line: When Seymour Hersh reports on security state malfeasance by Republicans, like Nixon or Bush, his sourcing/methods are vigorously defended by respectable mainstream opinion. When it's a Dem, as with today's Biden/Nordstream revelation, he suddenly becomes a crackpot."
Twitter user "banthebbc" told his 82,000 followers: "RADIO SILENCE — Still not a peep from the BBC about Seymour Hersh's bombshell story that the US blew up the Nordstream AND tried to blame Russia to start WWIII. How is this not the biggest story ever? Is Twitter now the last place where you can go to find out what is going on?"
British journalist Jonathan Cook wrote on Twitter: "Strangely, I still can't find a word on The Guardian website about Seymour Hersh's story on the US blowing up the Nordstream pipelines, even though the White House has spent all day frantically trying to put out the fires his story has sparked."
Hersh begins the article with a description of where he said the US Navy divers trained for the operation.
"The US Navy's Diving and Salvage Center can be found in a location as obscure as its name — down what was once a country lane in rural Panama City, a now-booming resort city in the southwestern panhandle of Florida, 110 kilometers south of the Alabama border." he wrote.
"The center has been training highly skilled deep-water divers for decades who, once assigned to American military units worldwide, are capable of technical diving to do the good — using C4 explosives to clear harbors and beaches of debris and unexploded ordinance — as well as the bad, like blowing up foreign oil rigs, fouling intake valves for undersea power plants, destroying locks on crucial shipping canals," he continued.
"Biden's decision to sabotage the pipelines came after more than nine months of highly secret back and forth debate inside Washington's national security community about how to best achieve that goal. For much of that time, the issue was not whether to do the mission, but how to get it done with no overt clue as to who was responsible."
From its earliest days, Nord Stream 1 was seen by Washington and its anti-Russian NATO partners as a threat to Western dominance, Hersh wrote.
In December 2021, Jake Sullivan, US national security adviser, convened a meeting of a new task force from the Joint Chiefs of Staff, the CIA, and the State and Treasury departments.
"The Navy proposed using a newly commissioned submarine to attack the pipeline directly. The Air Force discussed dropping bombs with delayed fuses that could be set off remotely. The CIA argued that whatever was done, it would have to be covert. Everyone involved understood the stakes," Hersh wrote.
"'This is not kiddie stuff,' the source said. If the attack were traceable to the US, 'It's an act of war'."
'An end to it'
At a news conference on Feb 7, 2022, shortly before the start of the conflict, Biden, after meeting with German Chancellor Olaf Scholz at the White House, said: "If Russia invades, ... there will be no longer a Nord Stream 2. We will bring an end to it."
Norway, where the US has a submarine base, was the staging site, Hersh wrote.
"Norway was one of the original signatories of the NATO Treaty in 1949, in the early days of the Cold War. Today, the supreme commander of NATO is Jens Stoltenberg (of Norway), … He was a hard-liner on all things Putin and Russia who had cooperated with the American intelligence community since the Vietnam War. He has been trusted completely since. 'He is the glove that fits the American hand,' the source said."
The Norwegians may have had other interests as well, Hersh surmised. The destruction of Nord Stream would allow Norway to sell more of its own natural gas to Europe.
On Sept 26, 2022, a Norwegian Navy P8 surveillance plane made a seemingly routine flight and dropped a sonar buoy. The signal spread underwater, initially to Nord Stream 2 and then to Nord Stream 1.
A few hours later, high-powered C4 explosives that were earlier put in place by US divers were triggered, and three of the four pipelines were put out of commission.
"Within a few minutes, pools of methane gas that remained in the shuttered pipelines could be seen spreading on the water's surface, and the world learned that something irreversible had taken place," he said.
Wang Qingyun in Beijing contributed to this story.