China to continue driving global growth
Share - WeChat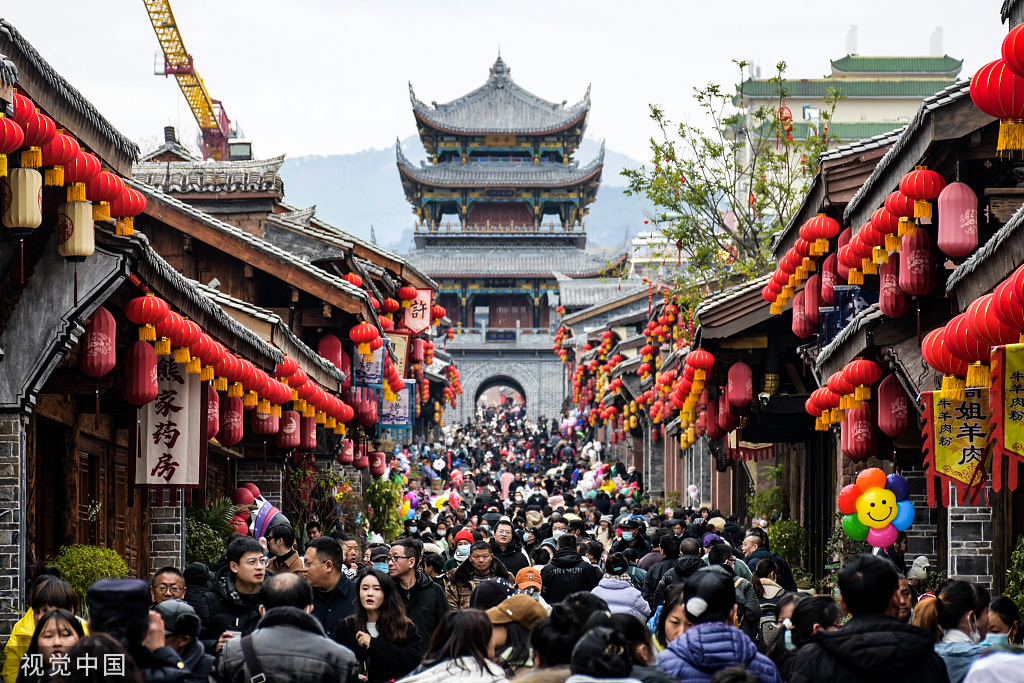 Spring Festival has traditionally been an occasion for family reunion, and celebration with Chinese New Year eve dinner. It is a time of hope and joy. It is also a time to take stock of the achievements of the past year and plan for an even better year ahead. Well begun is half done, so nothing could be more encouraging than a good start to the Year of the Rabbit.
Indeed, the weeklong Spring Festival holiday, which concluded recently, has given us plenty of reasons to hope that the world's second-largest economy would better perform in the new year.
A highlight of this Spring Festival holiday was the robust rebound of consumer spending. Hainan province, a top tourist destination because it offers sun, sand and sea, and favorable weather, saw its beaches, resorts as well as duty-free shops once again packed with tourists. Data from the Hainan department of commerce show the sales of the province's 12 offshore duty-free shops totaled 2.57 billion yuan ($378.77 million) during the holiday, up by 20.69 percent year-on-year and 329 percent compared with the same period in 2019.
The tourism sector bounced back not only in Hainan but also other parts of the country. According to the Ministry of Culture and Tourism, a total of 308 million trips were made within China during the holiday, generating 375.843 billion yuan in tourism-related revenue, up 23.1 percent and 30 percent year-on-year respectively.
Apart from tourism, the film market, too, is regaining momentum. The box office was the second highest during the holiday to date — 6.76 billion yuan, surpassing that of 2019 by 16.5 percent.
The sales revenue of consumption-related sectors during the seven-day holiday increased 12.2 percent year-on-year — and consumption, as an important economic indicator, reflects consumers' confidence in a country's economy and is usually positively correlated with economic growth.
The strong boost to consumption during the holiday, therefore, points to a swift rebound of the Chinese economy and reflects the strong resilience and great potential of the economy.
The resilience of the Chinese economy is underpinned by a solid material foundation that has been reinforced over the decades of reform and opening-up. And China has the most complete industrial system in the world, complete with all the industrial categories listed in the United Nations industrial classification.
Equally important, the world's leading industrial chain support system and world-class infrastructure have put China in a strong position to tackle external risks and challenges. This resilience of the economy has allowed China to make sound economic achievements in the past three years despite the impact of COVID-19. As a result, its average annual growth of 4.5 percent outpaced the world average of about 2 percent.
The Chinese economy is full of potential, too, thanks to its gigantic domestic market. Also, China's 1.4 billion people are still rapidly urbanizing, and in the next 15 years, more than 800 million Chinese people will enter the middle-income bracket. And the strong consumption power they unleash in the process will become a powerful engine driving China's growth, as well as global growth.
China's growth in 2023 will be underpinned not only by its economic resilience and potential, but also further reinforcement of well-conceived policy support that will boost investment, consumption and trade, the three major economic drivers.
Special-purpose bonds are a vital government tool to increase investment. By the end of November 2022, China's local governments issued 4 trillion yuan worth of new special-purpose bonds, in order to support nearly 30,000 key projects. This year, China will suitably expand the areas in which these bonds can be used.
To maintain the good momentum of consumption, local governments have rolled out plans to issue vouchers in sectors such as new energy vehicles, home appliances, shopping malls, supermarkets and catering.
As for trade, the latest good news is the cancellation of registration requirements for businesses engaged in foreign trade from December 30, 2022 onwards. So it is no surprise that in recent days multiple financial institutions and international investment banks including the International Monetary Fund, Goldman Sachs, Morgan Stanley, Standard Charter and Barclays have revised up their forecast for China's GDP growth in 2023.
And the United Nations World Economic Situation and Prospects 2023, published on Jan 25, while warning of a slowdown in global growth this year, projected China's growth to at 4.8 percent, far higher than the global average of 1.9 percent.
China's economic rebound will benefit countries that have close economic ties with China. We have already seen airports in Thailand and hotels in the Maldives packed with Chinese tourists. On the other hand, high-quality Chinese-made products will offer more choices to consumers in North America and Europe.
It is based on this belief that the IMF and Barclays raised their 2023 global growth forecast in their latest global economic outlook report. Betting on China's growth will help the world reduce sky-high inflation and pave the way for strong global recovery.
China, as always, will continue to turbo-charge global economic growth this year and beyond.
The author is a Beijing-based observer.
The views don't necessarily reflect those of China Daily.
Most Viewed in 24 Hours
China Views