Programs give exporters help in overseas biz
Share - WeChat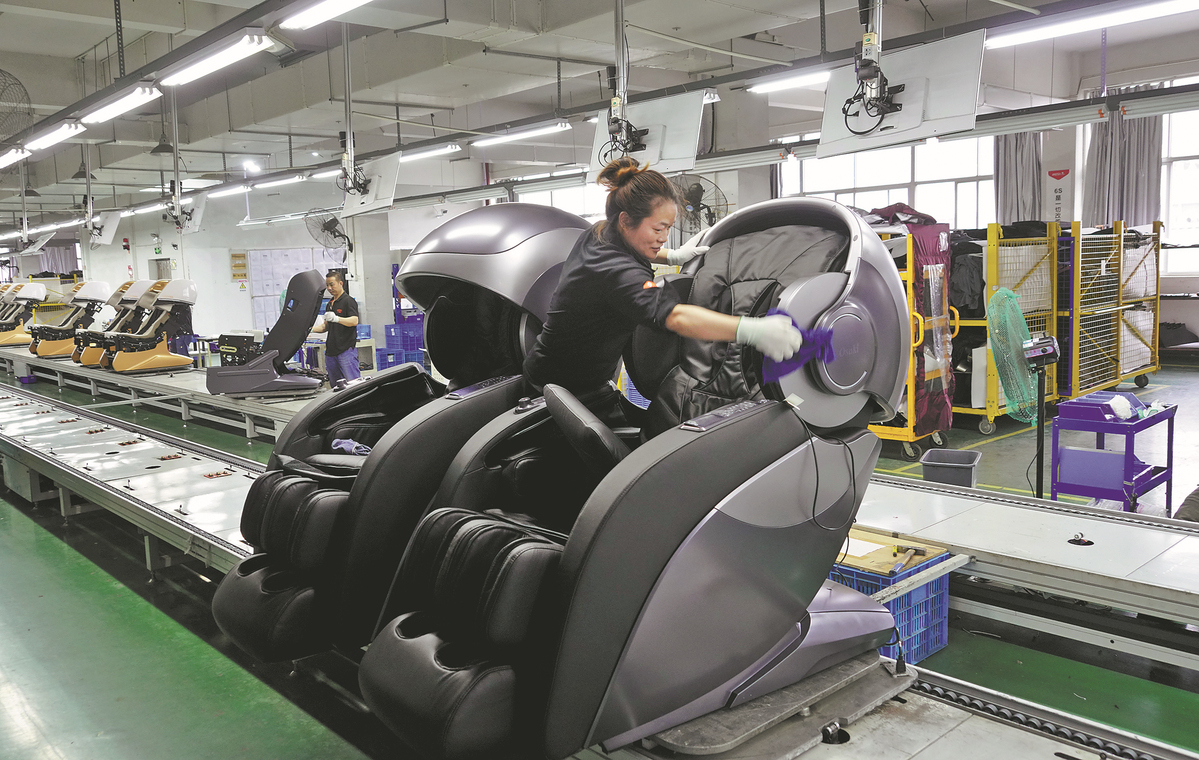 Enterprises receive subsidies to assist in attending international exhibitions
With China expanding many programs to facilitate its exporters in securing more overseas orders, business owners said they have been rushing to fill their booths with the latest product models at international business exhibitions and building new facilities in key countries this year.
They describe these moves as a "race against time" to spur subdued demand, develop ties with new foreign clients via face-to-face communication, uplift new foreign trade formats, such as building overseas warehouses, and diversify their sales channels via cross-border e-commerce.
Loctek Ergonomic Technology Corp, a Ningbo, Zhejiang province-based office products manufacturer, has been heading in this direction. The company announced in January that it will invest more than $100 million to build an overseas warehouse park in California, to support its sales and provide warehouse and logistics services to other Chinese exporters in the United States.
Xiang Lehong, chairman of Loctek Ergonomic, who went to the US to gather business orders and make plans for building such facilities in January, said since more US retailers have relied on online sales to maintain growth, it has inevitably generated an impact on sales of brick-and-mortar stores.
"This trend has pushed many Chinese companies to improve their core competitiveness and take advantage of cross-border e-commerce to expand their market presence in the US," said Xiang, adding that the group will put its first self-owned container ship with 1,800 twenty-foot equivalent units (TEUs) of shipping capacity into operation between Ningbo-Zhoushan Port and Port of Los Angeles next month.
Apart from developing new foreign trade format-related businesses abroad, over 350 exhibitors from 170 companies in Wenzhou, Zhejiang province, a hub of China's eyewear industry, flew to Milan, Italy for the MIDO Eyewear Show 2023 — an annual event for the international optics, optometry, ophthalmology and eyewear industry — on Feb 2.
The show, held from Feb 4 to 6, is the largest international show dedicated to the global eyewear sector with more than 1,500 exhibitors from over 50 countries presenting their latest products in six pavilions and eight exhibition areas.
This is the first time that Wenzhou's eyewear companies have participated in an overseas show since the outbreak of the COVID-19 pandemic.
"We have already set an appointment with a client to meet at the Milan fair and expected more deals. We hope to visit more customers in Milan this time, as we have not seen each other for a long time," said Zhou Aisong, chairman of Zhejiang Tongda Optical Co Ltd.
"As our order quantity has been saturated in the first quarter of this year, participating in the exhibition in Milan can bring new orders for the second quarter," said Zhang Jian, director of sales at Wenzhou Lanson International Co Ltd, noting the company began to prepare for this trip since September last year. He has invited more than 30 European customers in advance to visit the company's booth.
In response to softening consumption in Europe, Zhang said the company optimized its product structure and brought more than 600 inexpensive and high-quality products to the exhibition.
Eager to help Wenzhou's companies seize more orders in the overseas markets, the Wenzhou government is offering subsidies to its companies to take part in overseas business exhibitions this year. It has set goals to assist more than 300 exporters to participate in more than 50 exhibitions abroad in the first quarter.
Against external headwinds including cooling prospects for overseas demand and lingering geopolitical conflicts, the Ministry of Commerce stressed in early February that the government will support Chinese exporters to participate in various business exhibitions abroad in 2023.
GMCC & Welling, a subsidiary of Foshan, Guangdong province-based Midea Industrial Technology that provides system solutions for core parts of home appliances, showcased an entire solutions package for heating, ventilation and air-conditioning (HVAC) products, including compressors, motors and heat pumps at the International Air-Conditioning, Heating, Refrigerating Exposition 2023 in Atlanta, Georgia, from Monday to Wednesday.
"North America is one of the most important overseas markets for us as it is large and has promising growth potential. We will explore more localization opportunities and grab more market share in the region," said Zhang Qiyun, GMCC & Welling's sales director for North America.