New stamps issued to mark brother masters of Neo-Confucianism
Share - WeChat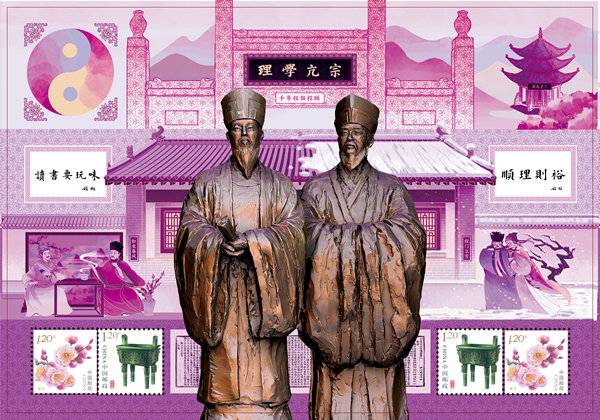 Over nine centuries ago, a family surnamed Cheng from Wuhan, Hubei province, bore two brothers who were only one year apart. Years later the brothers both became accomplished in academic learning and were appointed in high official rankings.
Named Cheng Hao and Cheng Yi, they contributed a lot to the establishment of lixue (learning of the principle), or known as Neo-Confucianism in the West, during the Song Dynasty (960-1279).
To mark the work the brothers achieved in carrying forward the tradition of Chinese philosophies, China National Philatelic Co. Ltd issued on Sunday a collection of postage stamps celebrating the two committed thinkers and educators.
The collection shows two sculptures of the Cheng brothers created by Yuan Xikun, and their theories written in the classic calligraphic style by Meng Fang. It contains four stamps featuring archaic bronzes and plum blossoms to symbolize the brother's academic gains and morality.
Most Popular