Cooking up treats with French and Chinese characteristics
Share - WeChat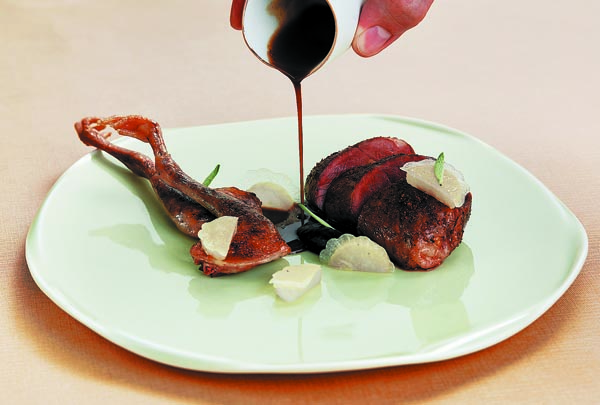 One of the signature dishes of French cuisine in the Phenix in The PuLi Hotel and Spa, Shanghai, is Le Pigeon. As the name suggests, it has pigeon, foie gras, salsify and shiso. It is highly praised by customers and recommended by the chef.
The executive chef of Phenix, Ugo Rinaldo, says the pigeon from Guangdong province makes the dish a unique cohesion between traditional French and Chinese recipes, which is also a feature of the restaurant that has been awarded one Michelin Star for the seventh consecutive year.
"The pigeon is a local product cooked in a French style that is used for foie gras. Then we have a Chinese sweet plum sauce, very similar to a French sweet plum. There is really a cohesion between what people will expect in a French restaurant but putting in local ingredients," says Rinaldo, who joined the restaurant in 2021.
This commitment to the fine, fresh and good quality ingredients is not only the top mission of the restaurant, which opened in 2016, but also at the foundation Rinaldo's cuisine philosophy, according to the chef.
Besides appreciating the support from customers and also the challenges over last year, Rinaldo also sees changes ahead.
"We can see the trend of the Michelin-Starred restaurant has changed over the years in Shanghai.
"The city has a European way; there is also a mix of concepts," Rinaldo says.
Most Popular