Sino-US trade ties expanding amid tensions
By ZHAO HUANXIN in Washington and Zhong Nan in Beijing | chinadaily.com.cn | Updated: 2023-02-10 00:18
Share - WeChat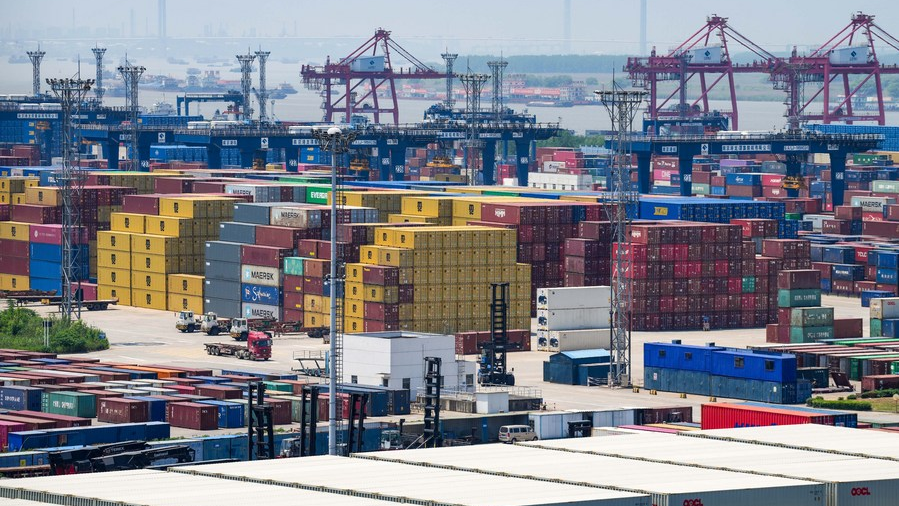 While relations between the United States and China have yet to thaw after years of growing tension, bilateral trade ties are expanding, with the value of imports and exports hitting a new high last year.
China maintained its position as the US' third-largest trading partner for goods in 2022, accounting for 13 percent of total trade, following Canada, with 14.9 percent, and Mexico at 14.7 percent, according to figures released on Tuesday by the US Commerce Department.
"The deepening shows that economic forces are stronger than political talk," Gary Hufbauer, a senior fellow and trade expert at the Peterson Institute for International Economics in Washington, DC, told China Daily on Wednesday.
"The US economy is very strong, and US firms need to get intermediate and final goods from reliable suppliers that offer high quality and low prices. That means China," he said.
The value of US goods exports to China increased by $2.4 billion year-on-year to a record high of $153.8 billion, with imports increasing $31.8 billion to reach $536.8 billion last year, the US data showed.
Two-way trade in goods between the world's two largest economies rose to $690.6 billion last year, exceeding the record set in 2018, according to the US Commerce Department.
Compared with 2012, US exports of goods to China increased 39 percent, while its imports from China grew 26.6 percent, according to the US data.
According to China's General Administration of Customs, Sino-US trade rose 0.6 percent year-on-year to $759.43 billion in 2022, with the US remaining China's third-largest trading partner following the Association of Southeast Asian Nations and the European Union.
Chinese exports to the US grew 1.2 percent year-on-year to $581.78 billion last year, while its imports from the US fell 1.1 percent to $177.64 billion, the administration said.
Despite the countries' differing statistics, the figures show that the booming trade relationship between the two major economies is mutually beneficial, creating jobs in both countries and taming the rising inflation in the US, said Yang Weiyong, an associate professor of economics at the University of International Business and Economics in Beijing.
Hufbauer, however, said that if geopolitical tensions worsen substantially, there could be a plunge in bilateral trade flows.
"But if the current situation continues — not particularly friendly, but not getting more hostile — I think trade will continue to flourish," he said.
Current trade relations suggest that the decisions of consumers and business executives have been more powerful than those of policymakers, he added.
Washington has increasingly taken a "practical" approach to the broader commercial relationship with China, with lobbyists calling for striking a balance between the economy and national security.
For example, on Monday, a day before US President Joe Biden delivered the annual State of the Union address, Suzanne P. Clark, president and CEO of the US Chamber of Commerce, said that the US business community wanted to hear a "balanced approach to China" in Biden's speech.
"Our commercial relationship with the world's second-largest economy is worth nearly $1 trillion annually and supports hundreds of thousands of American jobs," she said.
Biden said Washington seeks competition, not conflict, with Beijing, and the US will work with China in areas where interests align.
In late November, US Commerce Secretary Gina Raimondo said the country reaps great benefits from trade with China and would not decouple from it, with the exception of critical technology and other areas that Washington deems could "undermine" its national security.
Beijing made it clear that it opposes stretching the concept of national security and politicizing or weaponizing economic and trade ties.
"We should not let national security stand in the way of economic development and the improvement of people's lives in both countries," Qin Gang, then-Chinese ambassador to the US, said in a speech in December, prior to his appointment as China's foreign minister.
On Thursday, China said it welcomes the willingness expressed by US Treasury Secretary Janet Yellen to visit the country.
Shu Jueting, spokeswoman for the Ministry of Commerce, made the remark after Yellen said on Wednesday that she hopes to be able to visit China and meet with her economic counterparts.