Hubei couple opt for romantic, not lavish, wedding
Share - WeChat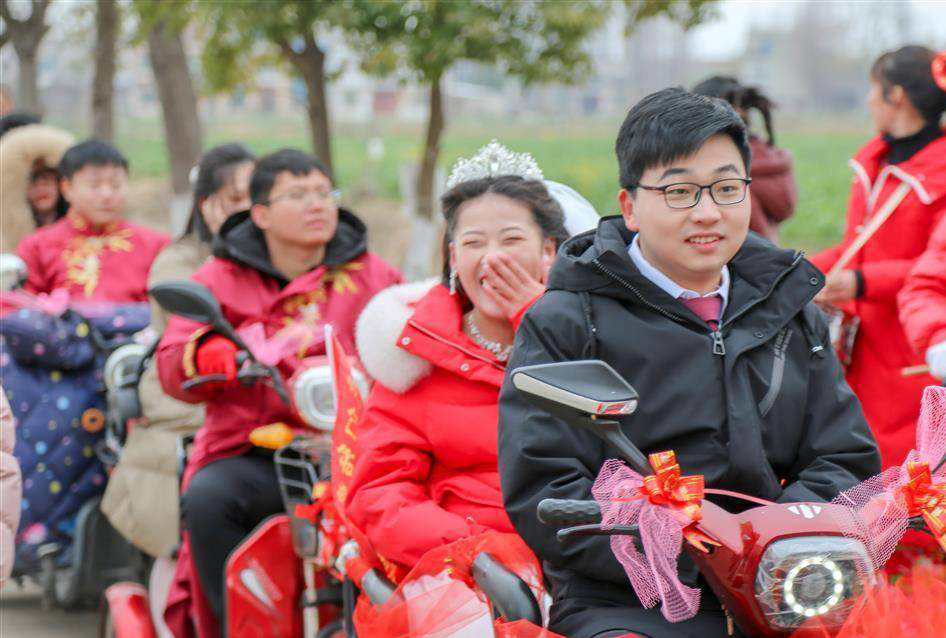 Instead of hiring limousines as wedding cars, a couple in Central China's Hubei province rented 13 electric tricycles for their marriage ceremony to prove their wedding day could be festive without being wasteful, Jimu News reported on Monday.
The bride, Zhan Zhengwei, and the groom, Hu Penghui, in their early 20s, are from Xingou village, Jianli city in Hubei province. They were classmates in primary and middle schools and attended the same high school. Later, Zhan enrolled at a medical school in the province, while Hu went to Hainan for college. Although separated by the long distance, their feelings for each other remained close.
After graduation, Zhan returned to Jianli and began working as a laboratory technician. In the meantime, Hu also found a job in Wuhan. At the end of 2021, they decided to get married after eight years of courtship. However, due to the COVID-19 outbreak, they had to postpone what should have been their May wedding ceremony.
While their parents were busy preparing for their nuptial rescheduled to February, Zhan came up with a new idea – dropping the typical marriage ceremony that usually results in huge waste, and replacing it with a simple event to neutralize carbon emissions from the wedding.
When she told Hu, her fiancé, the idea of using electric tricycles to travel the 5.9-kilometer-long distance to the wedding, he didn't quite agree. "It is a once-in-a-lifetime thing," he said, suggesting there should be a big fat wedding for her.
However, her mother supported her. "Life should be living for oneself, not for others," she said.
Despite unanimous discouragement from the families of Zhan and her fiancé, she didn't budge. "If you don't agree with me, I will not get married," she said.
Zhan's persistence finally won the support of everyone. On her wedding day, her mother borrowed 13 electric tricycles for transportation, and the whole wedding was organized in a simple manner.
"Although it was cold, everyone was very happy. I think this 'low-carbon' wedding is very meaningful," Zhan said.
"This is the most romantic wedding, not a lavish one," she said.
The couple also helped fight against the virus in April last year in Sanya of Hainan. They were there to take wedding photos but got their plan disrupted by the COVID-19 outbreak. As a laboratory technician at her hometown's disease prevention and control center, Zhan contacted the local community and joined its nucleic acid testing team. Hu also signed up as a volunteer to serve the local people.
"We got support from medical workers from Hainan when Hubei was hit hard by the epidemic in 2020, now I also want to do my part in return," Zhan said.
"The experience was also very impressive and romantic," Zhan said.