Museums are popular but ease of entry is history
Share - WeChat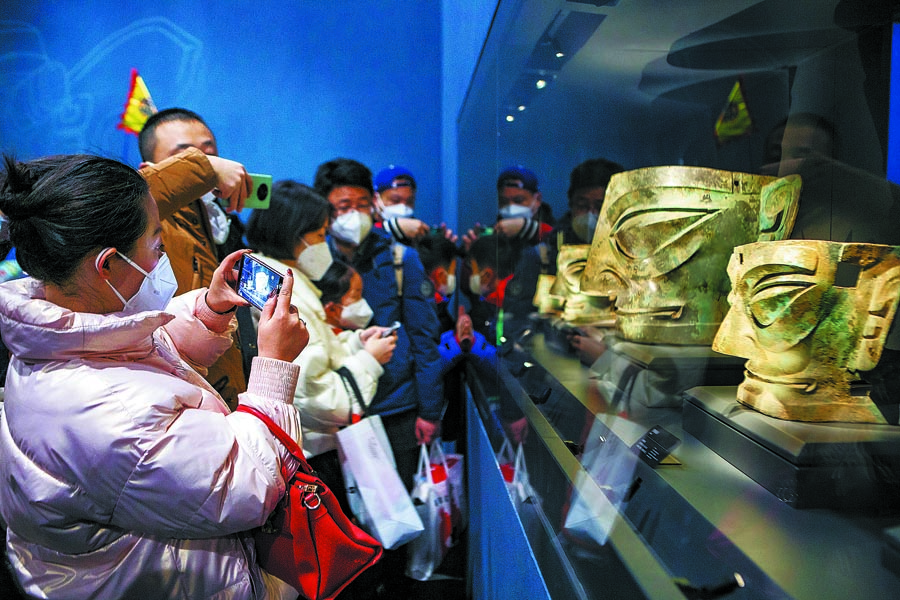 Planning early is essential as tickets may be sold out, Deng Zhangyu reports.
During the weeklong Spring Festival holiday in late January, Li Jingjing visited four museums in three days with her parents in Beijing. A delightful and educational endeavor. But there were problems. The expected ease of getting admission tickets to certain venues seemed to have become a thing of the past. Tickets to popular museums in Beijing were all snapped up before the holiday.
Li went to China National Arts and Crafts Museum on Jan 24, the third day of the Spring Festival holiday, traditionally a date when people usually go to visit family members. The 34-year-old thought that it would not be that busy, as it only opened to the public last year. However, its holiday tickets were sold out.
She kept refreshing the ticket sales app, finally succeeding in obtaining three that had been returned by someone who couldn't go.
"I felt so lucky when I got the tickets. I never thought that museum admission would be so hard to obtain," says Li, who works at an investment company in Beijing and loves visiting museums at home and abroad.
However, it was her first time visiting museums during Spring Festival. Previously, she would take trips with her family or visit other relatives, a similar routine to many Chinese people during what is widely considered to be the most important holiday of the year.
When Li and her parents arrived at the China National Arts and Crafts Museum at about 10 am, they queued for about half an hour to get in. The six-floor museum, with its seven big exhibition halls, was full of visitors. It was hard to find a seat to take a break during their daylong visit.
"We loved the exhibitions of paper-cutting and shadow puppets. It was so interesting and fascinating that we stayed until the last minute," says Li, adding that it was worthwhile, despite the crowds.
She notes that most visitors were parents with children or infants.
Over the next two days, Li visited the China National Film Museum, China Aviation Museum, and the Military Museum of the Chinese People's Revolution. She says that the key reason for her choice of venues was the availability of tickets.
Li's original plan was to go to the Palace Museum and the National Museum of China, but both were sold out before the holiday even began.
According to Beijing Cultural Heritage Bureau, more than 1 million people visited museums in Beijing during the weeklong holiday. The hottest ticket is the Palace Museum, also known as the Forbidden City. It welcomed 230,000 visitors during the holiday. Close behind was the National Museum of China, which hosted 90,000 visitors.
It wasn't only museums in Beijing that witnessed a holiday boom. All across China, cultural venues enjoyed an uptick in footfall, as crowds poured into museums and galleries to find historical and artistic enlightenment.