Fine 12th-century books to go under hammer in Beijing
Share - WeChat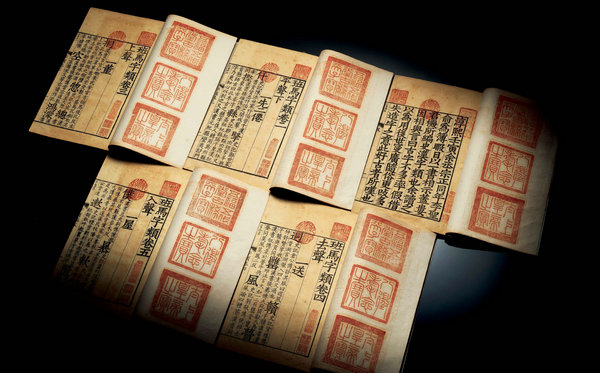 Song Dynasty (960-1179) witnessed a booming of activities involving art and culture. For example, Lou Ji, a scholar-official from the Southern Song Dynasty (1127-1279), compiled a dictionary of selected characters from two noteworthy writings of history, Han Shu (Book of Han) by Ban Gu and Shiji (Records of the Grand Historian) by Sima Qian. Lou's work featured those characters seldomly used in his time and included their pronunciations, meanings and references.
Centuries later, several editions of this dictionary entered the imperial court of Qing Dynasty (1644-1911) and were selected into Tianlu Linlang, a collection of fine vintage books housed at the royal library, under the order of Emperor Qianlong.
A collection of books, believed to be an edition of Lou's dictionary and featured in Tianlu Linlang, will be auctioned at a sale in Beijing by Shi Zhu Zhai on Feb 21, and the preview will be held on Feb 19 and 20.
Publications from the Song Dynasty are sought after among art collectors for the delicate design and printing technique, which embody a high cultural taste.
Most Popular