Helping marginalized people get justice
Share - WeChat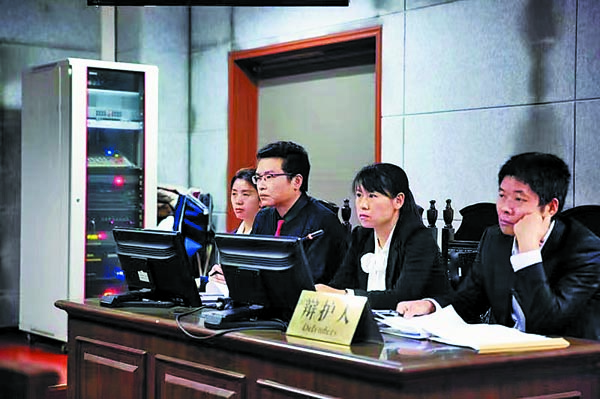 Lawyer Tang Shuai and his specialist team of legal eagles use various forms of sign language to advocate on behalf of deaf and mute clients, Wang Ru reports.
Recalling the starting point of his career, Tang Shuai, 38, a lawyer based in Southwest China's Chongqing, renowned for dealing with cases related to deaf and mute clients, notes that he was only 4 years old.
His father had suddenly fallen ill and was sent to a hospital. Although he had a severe stomachache, he couldn't describe his ailment to the doctor because he is both deaf and mute. As such, the doctor wasn't able to make an accurate diagnosis.
Seeing his father curl up on the sickbed in pain, with sweat soaking through his shirt and into the sheet, Tang was anxious, and made up his mind there and then to learn sign language so that, in future, he would be able to help his parents communicate.
Tang was born in Chongqing in 1985, and both of his parents are deaf and mute. Through a sense of self-loathing because of their condition, they sent Tang to live with his grandparents, and forbade him from learning sign language.
"They believed that people with such conditions live with very low social status. When I was labeled as an 'ordinary' person in their minds, they tried to push me away from that world," says Tang.
But, against their wishes, after witnessing his father's difficulty at the hospital, he began to learn sign language from his grandmother and his parents' colleagues at a local factory, and gradually became proficient.
One day, when he was a primary school student, friends of his parents visited his family. Tang was surprised to find that he couldn't understand their sign language at all. That opened his eyes to the existence of different "dialects" of sign language. Since then, he would go to the most popular tourist attractions in Chongqing to learn different types of sign language from tourists.
In his interactions with people who are both deaf and mute, he developed a greater understanding of the group, and gradually became a bridge connecting them with wider society. When he discovered that one area where they regularly faced problems was legal affairs, he began to help them, and has organized a team of lawyers, most of whom are deaf and some are also mute, to represent them. According to Tang, in the past decade, his law firm has helped more than 200,000 deaf and mute people.
After he graduated from senior high school, Tang's parents were laid off, so he dropped out of school to find work and relieve the burden of his family. He tried different jobs, including as a construction worker, bar singer and shop assistant.
Most Popular